SubtleDigs
Regular price
Sale price
$65.00
Unit price
per
Sale
Sold out
Stainless Steel Travel Lock Picking Kit for Locksport
Our all-new travel lock pick set is perfect for First Responders, Survivalists, Maintenance Folks, Hunters, EDC, or anyone who could find themselves needing entry in an emergency or a crisis.  It is wallet size for carrying, putting in a go-bag, an emergency supply kit, or bringing to the local locksport event. We call it Tango-Foxtrot V2. 

The travel set contains four single-pin picks for single-pin picking, a city rake for rocking, and a worm, which is loved by many for its speed in getting locks open.
Four tension wrenches are included to handle multiple lock types (Two top-of-the-keyway and two bottom-of-the-keyway wrenches).
A key extractor should be a part of everyone's set and is included here to round out the pick selection.
The picks are made from aircraft-grade US Steel fully hardened 301 stainless steel to last a long time and be very durable. 
The wallet is made from soft genuine leather that ages well. 
Available exclusively from SubtleDigs. 
Our custom picks are designed in-house by engineers and made in the USA. 
 
This version of the Tango-Foxtrot set has gotten an upgrade from our previous version! New features include: 

New pick designs by our engineers
Engraved SubtleDigs logo
Genuine leather wallet with extra space to fit your favorite extra picks
Manufactured in USA



Our Travel Lock Pick Set Includes: 

Single Pin Picks

Small hook
Medium hook
Diamond
Reach

Rakes
Key Extractor
2 Double-Sided Top Of The Keyway Tension Wrenches
2 Bottom Of The Keyway Tension Wrenches
Leather Wallet Case (With Space For Additional Picks)

 

Thieves pick pockets. Intellectuals pick locks. 

 

Why is this lock pick set made of hardened 301 stainless steel?

We use a fully hardened 301 stainless steel. This is an aircraft-grade stainless. The fully hard is over three times as strong as annealed (Yield strength of 140 ksi vs 45 ksi) and is almost twice as hard (Rockwell C41 vs  C25).  We do this to make the picks last a long time. 

In short: Our travel lock pick set is better than the flimsy kits you'd find on Amazon.

 

How compact is this lock pick set?

If you want a lock pick set you can fit in your toolbox, car, or EDC bag, this is the one. 

The set folds out for easy pick selection with a flap to keep picks where they should be. Even though this set is compact, we have left empty slots for you to store additional picks. 

When you are finished picking your latest lock challenge, simply roll the set back up and tuck it away like a fine wallet. 

The leather wallet is fairly stiff like all leather when new but will age well and get that wonderful patina like your favorite leather jacket.

 

Dimensions: 140 mm (5.5 in) X 78 mm (3 in) X 27 mm (1.2 in)

 

Technical specs and product features:

Lock pick blade thickness: 0.61 mm (0.024 in)
Length: 120 mm (4.75 in)
Weight: 6 grams (0.21 oz)
Material: 301 stainless steel fully hardened
Unique design with multiple tension wrenches and picks to cover a broad range of locks



SubtleDigs has been featured on:
Share
View full details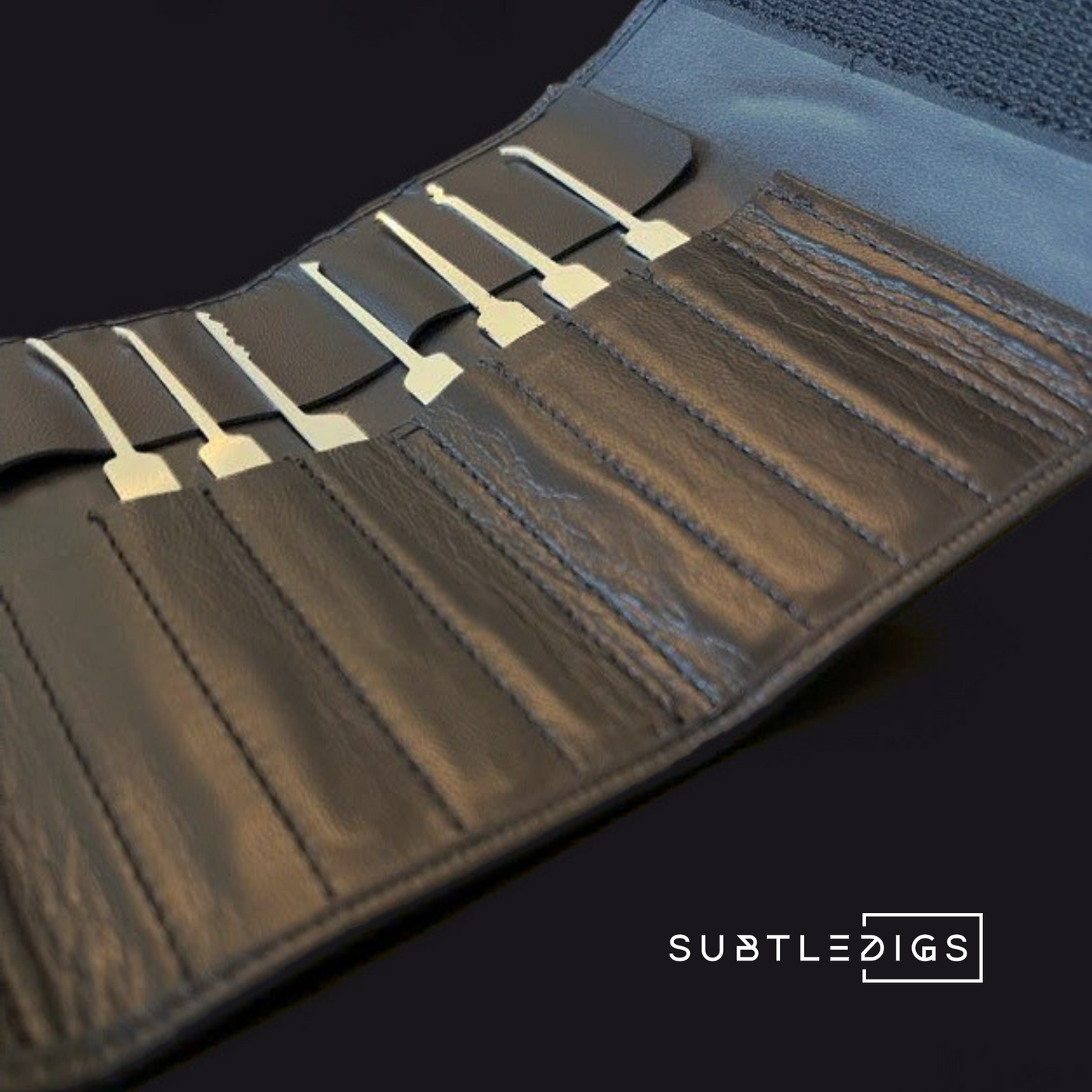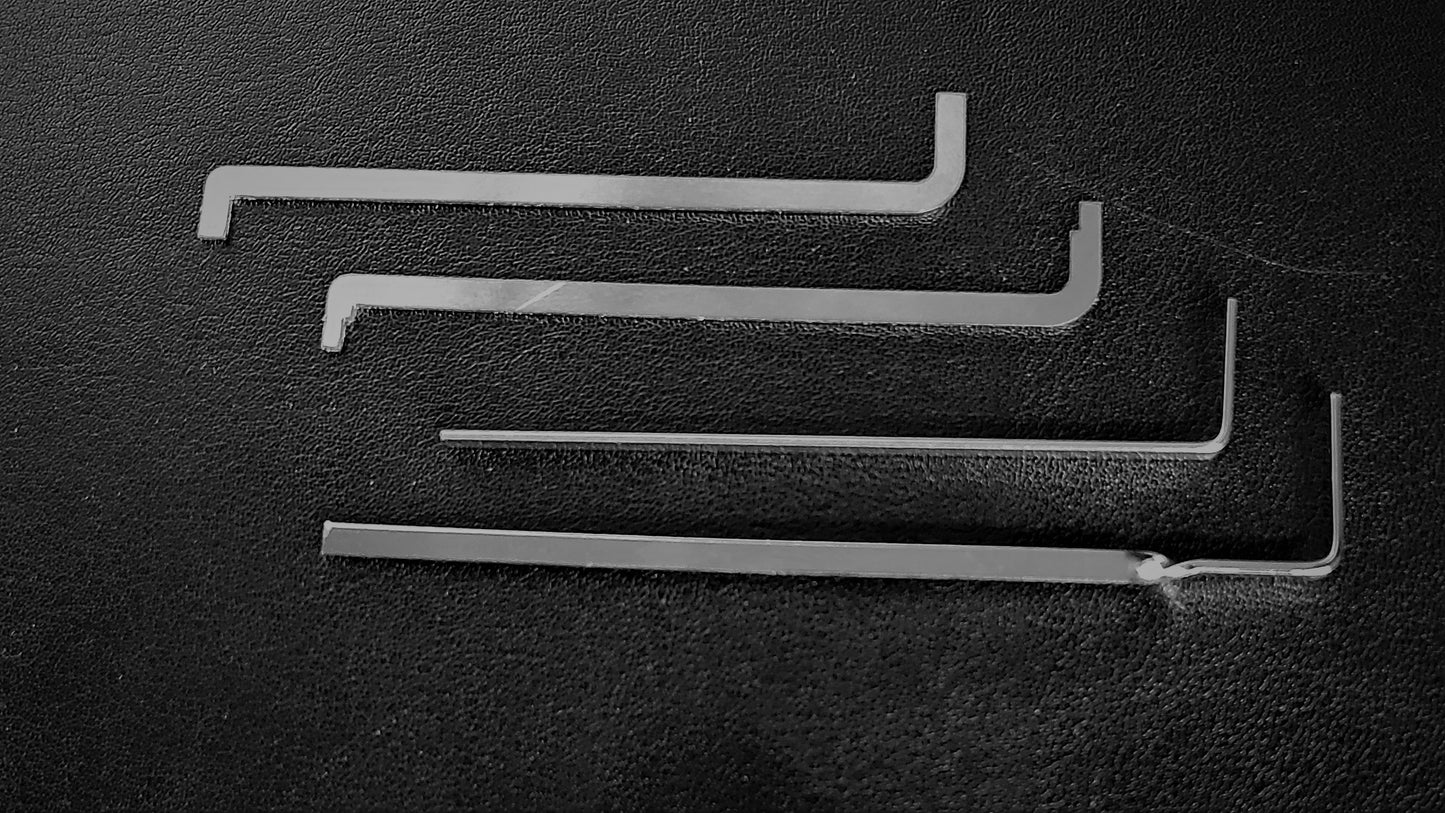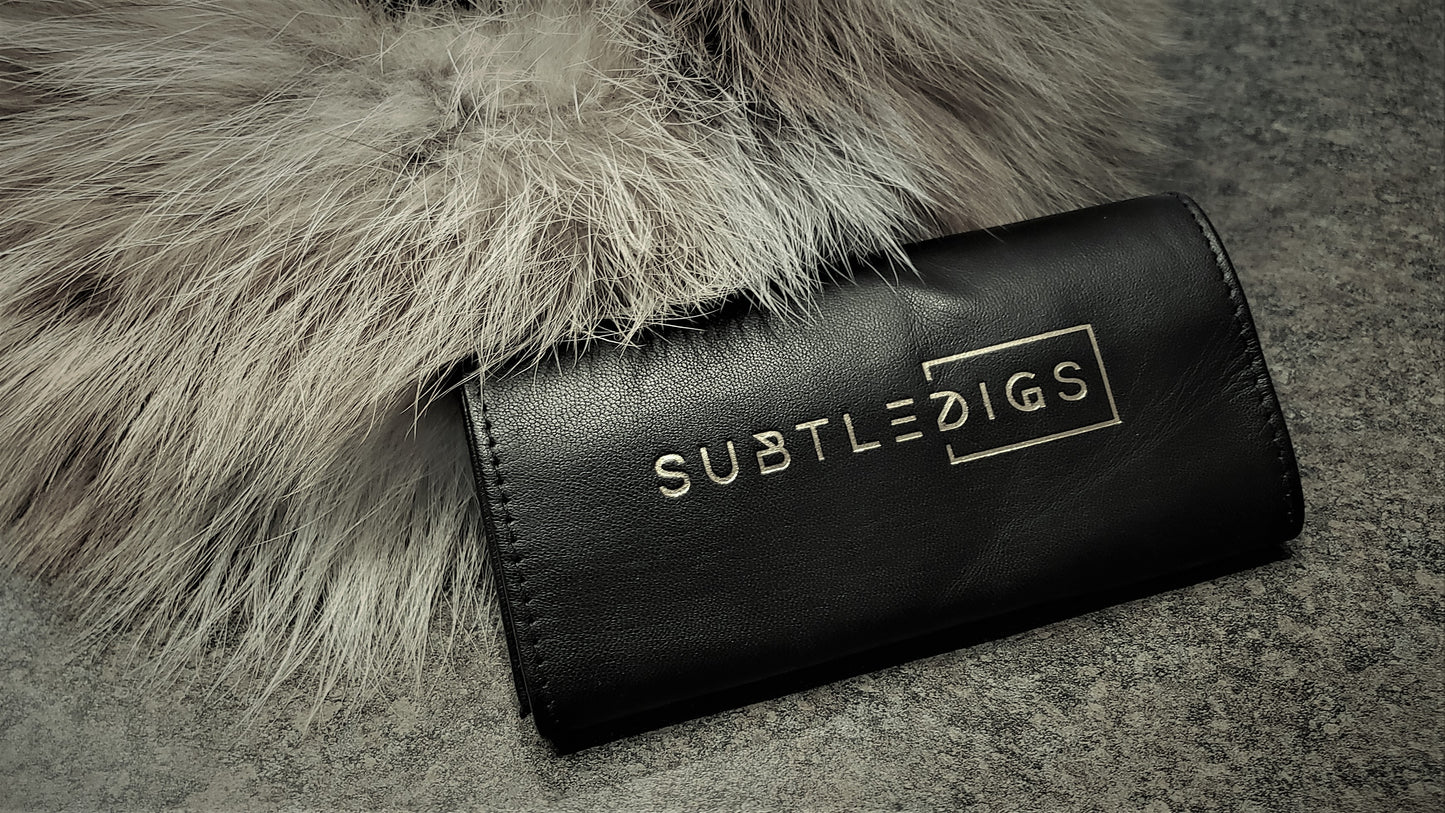 Pick set
My grandson was so impressed and excited about the pick set I bought him for his birthday. He is 11 and a Locksmith in the making!
Complete and nice looking
Nice and compact set for me to keep with me for emergencies. Best part is the tension bar is made right... not like some other kits.
Travel Lock Pick Set | Lock Picking Tools With Wallet | Made in the U.S.
Great set of picks for beginners
Great quality set of picks comes with everything you need! Plus the fancy pouch for them which keeps them organized and neat! Would buy again!