SubtleDigs
Regular price
Sale price
$12.99
Unit price
per
Sale
Sold out
If you've ever wondered how a lock works, this clear plastic padlock will provide a lot of information.
Used as a practice lock for beginner lock pickers, transparent padlocks allow you to see the pins and cylinder as you develop your skills. 
Each order includes one 6-pin padlock and a spare key. 
Pair it with our travel lock pick set and Lockpicking 101 Guide, and you'll be well on your way to learning the art of picking locks! 
Share
View full details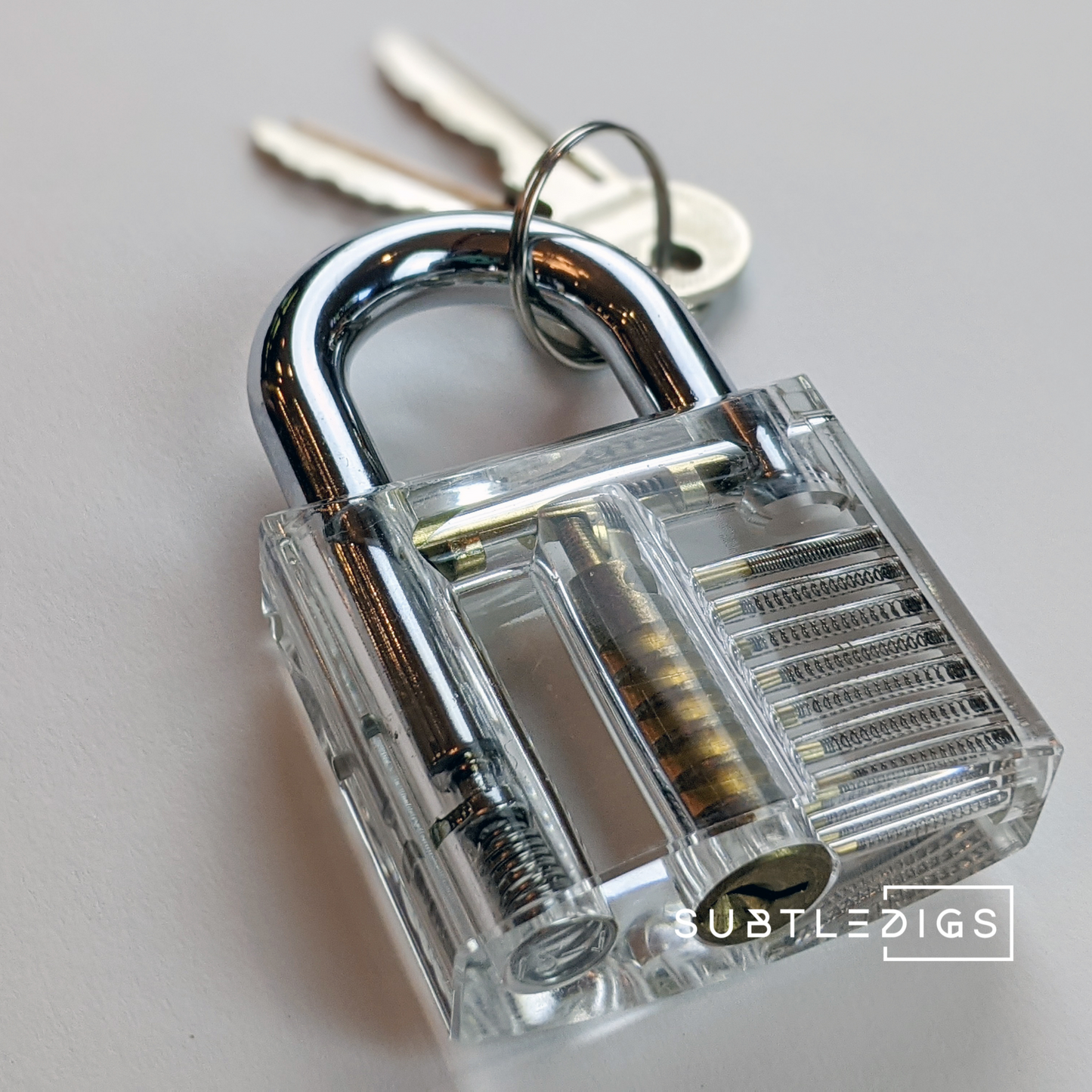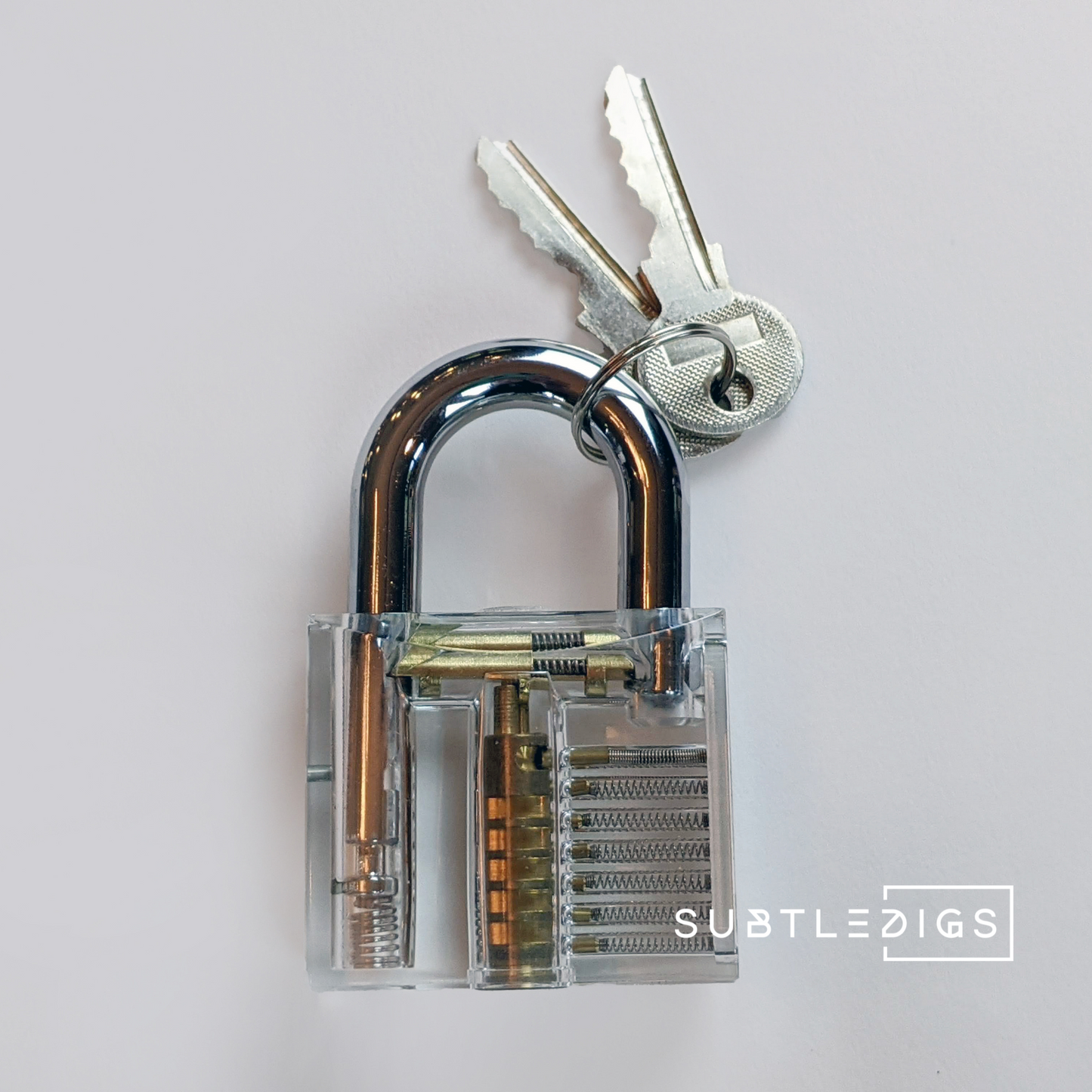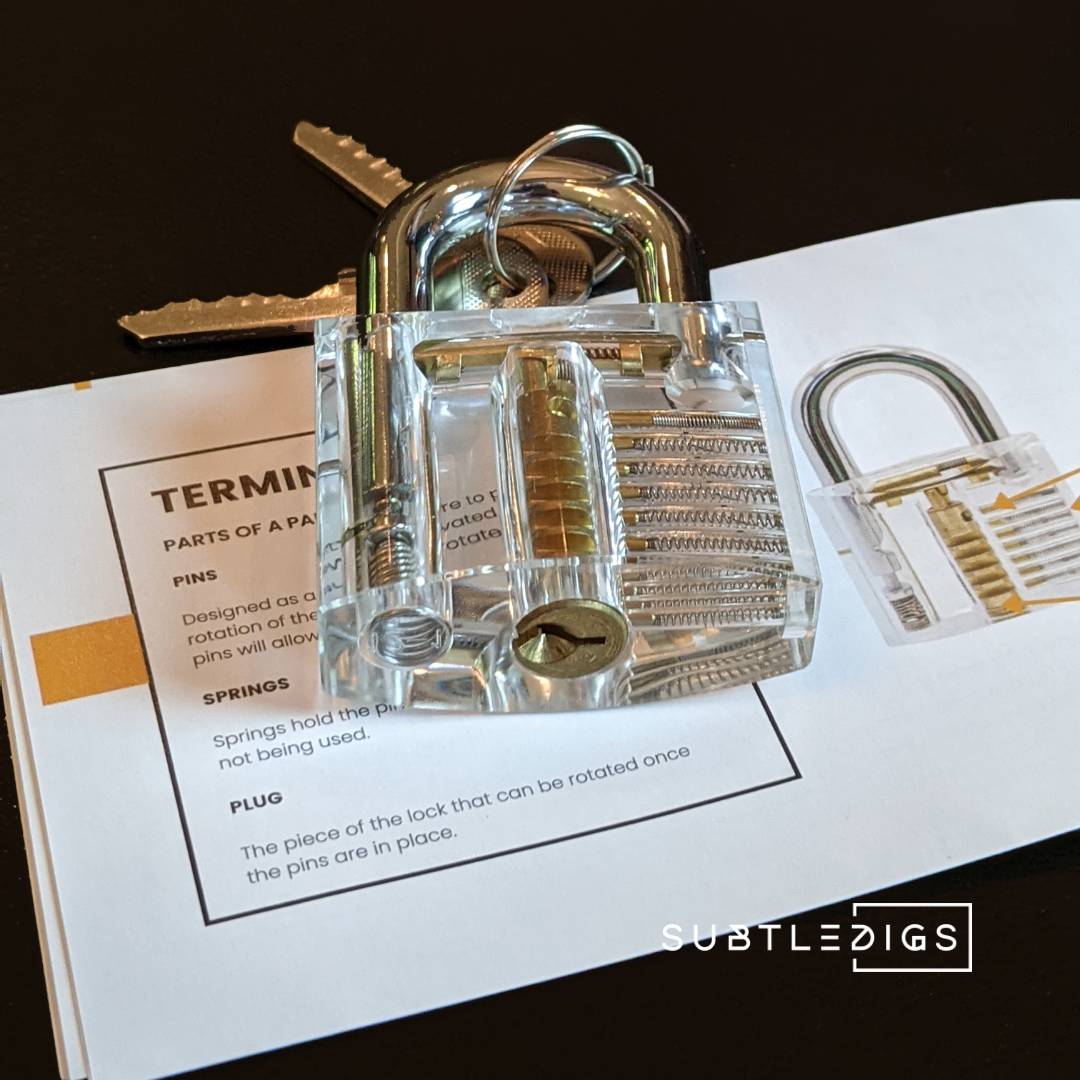 well made and intriguing to explore and play with
As advertised. Fun fidget toy to explore and learn how locks work. Solid construction, heavy and well made. (Don't use it for anything needing actual security! ha)
Great idea
This product is a great idea, not only providing a learning device using clear plastic for those interested in how simple locks work and getting some practice and proficiency at lock "picking". And yes it could be a fun game. Unfortunately, the mechanism in the locks do not seem to hold up to the very sharp edges of the picks provided, leaving apparent scrapings after a few uses. It might help to have the picks de-burred a bit.
Nice way to show how pin-cylinder locks work
I bought this because it seemed like a good idea, especially for explaining to up-and-coming locksmiths. But I'll offer a few suggestions: 1) my lock needed lubrication - right out of the box I could not insert the provided key, even with very strong pressure and wiggling. After some powdered graphite, it works fine. But to the uninitiated, it might have seemed faulty/broken. 2) With this design, the pins cannot be changed. And since it is a visual learning aid, I'd suggest keying it with more dramatic cuts to better show off the pins lifting and falling.
I haven't yet tried picking this lock, but hopefully the machining is not TOO good so that picking a six-pin tumbler will be not crazy hard. Again, it is to show others the concepts.
Also, I don't know why you have a seventh pin slot that is not involved in the key-combination/security. I do not think traditional pin-cylinder locks have an extra pin like that. Here I guess it ensures that the key is fully inserted, but is resting on the angled leading edge of the key. Maybe that just makes it like a seven-pin lock when picking, so that much harder?
Clear practice lock for lock picking and lock sport | Transparent padlock